Our faculty members are a true gift to the St. Ambrose Academy community. They are hired because of their commitment to our mission, living our values, and educating students to be faithful, thoughtful leaders. While a visit is the best way to see them in action and understand why we love our faculty so much, we want to share extra stories to give you some insight into some of our talented teachers and what moves them.
The bios on our Faculty & Staff page offer an idea of their passions and interests so we encourage you to meet all of our teachers and leaders there!
Featured Faculty: Dr. Geoffrey Ludvik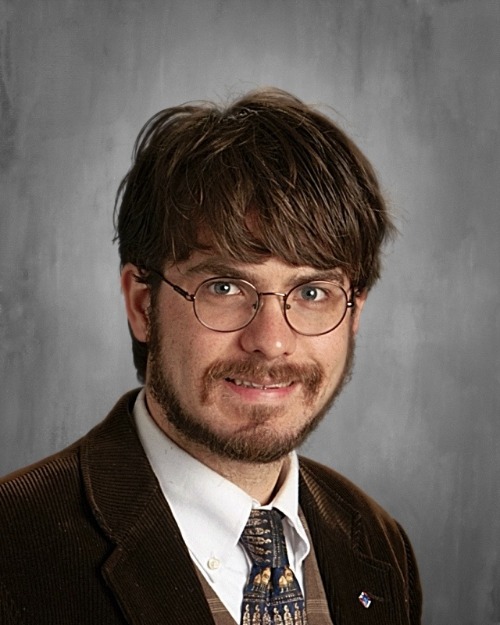 Dr. Geoffrey Ludvik's normal summer routine includes a flight halfway across the world, a lot of sand, and Old Testament-era archeology. As a member of the Tell el-Hesi Regional Project in Israel, Dr. Ludvik and his colleagues continue to excavate a 10th century B.C. Israelite border outpost called Khirbet Summeily.
Due to the COVID—19 virus, the team has not been able to travel to Israel for continued on-site studies, and so has made lemonade out of lemons by digging into past excavations' finds from the Tell el-Hesi site. This has included opening crates and analyzing items found by a previous generation of researchers at the same site. Dr. Ludvik and his colleagues are the first ones to open these crates since they were packed up and shipped over in the 1970s – an excavation of a different kind!
He is one of many talented, passionate, life-long learners who St. Ambrose students are able to learn from and engage with in the classroom each day. Below is a conversation with Dr. Ludvik about his fascinating research and the ways his continued curiosity and research impacts the classroom at St. Ambrose Academy.
Why are you working on this particular project?
Every archaeologist who was working on it was working on it at the end of their career and has passed away since. So now it's up to this generation of archaeologists to go through and finish their research.
The project that has dominated your time this summer might seem small to the untrained eye: a bone from the foot of a cow, just above the hoof. What is its significance?
It's a very nice cylindrical hollow tube that is taken from the cow and very heavily decorated with beautifully incised lines in diamond cross-hatching patterns and other motifs. There's only some-200 in the world. The thing that raised our eyebrows is that our site has 15 fragments, more than any in our region. This led us to conclude that because we have so many, we have a workshop here, where there were craftsmen producing this around 2800-2700 BC.
You've used both research from your project and outside research to weigh in on this summer's work. What can you tell us about these vessels?
These items were used as containers. In the Aegean, these were filled with pigment makeup. But you could put anything in it, it's just a very high-quality container that would have taken them a long time to produce and wouldn't have been something the average Joe would have had access to, considering the limited numbers we've found worldwide.
So what does one do with an ancient object like this?
This summer I'm attempting to replicate one. My specialty in archeology is the study of technology specifically the workshop area, how they were administering them, and how they were making artifacts. So this is a good case study for me to look at an experiment to try to replicate the way the ancients were fabricating these.
The ones we have were broken during production, the craftsmen messed up in some way, which is probably why we found all of them close to the workshop in dumps: they were discarded before use. We do find them other places in tombs so those probably had some sort of use in their lifetime, but at least in our site, all of them were broken. The good ones were probably traded around and right now I'm working on another paper to see how far they were traded to find other examples.
What is your process for replicating this type of object? How do you relate your work as a teacher in a classical school to the research you do?
Trying to replicate the process really gets you inside the head of the ancient person, which is super cool.
The biggest way that's most obvious in terms of what we do at St. Ambrose Academy is the connections across disciplines which is so parament in classical education. In order to replicate this, I have had to work with individuals who are far more specialized in bones, skeletal structures of animals, bone density and how it's affected by tool marks, how to use tools, working with hunters on how to skin an animal. I need to go well beyond my archaeology background. For example, I asked my wife, a microbiologist, about the mixing of chemical solutions because we believe the artifacts were chemically modified to make the bones softer and easier to cut. So I'm testing many hypotheses about chemical treatment that would assist someone with cutting bone.
It's so interdisciplinary and it's brought me into strange places like pioneer soapmaking. I found out that lye, which is a key ingredient in making soap, is highly caustic and can be used to make bones softer. The process also produces ash as a byproduct, which is interesting because our site had a lot of ash even though it was never destroyed by anybody, a cause and effect you would normally expect to see.
To be even able to have an intelligent conversation about 18th-century soap production is an important skill and application I see from the goal of drawing connections and thinking outside the box.
**
Dr. Ludvik's research is in a highly competitive field and we look forward to hearing the results of his work during the summer of 2021 and the conclusions made about ancient craftsmen and this facet of life in the ancient world! For more info on Dr. Ludvik's background, check out his biography and those of the rest of our faculty!